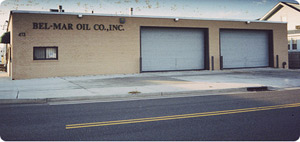 Bel-Mar Oil Company is a full-service heating oil company dedicated to serving the fuel and home comfort needs of our customers. Bel-Mar Oil serves residential, commercial and industrial customers in Queens and Nassau County, offering competitive prices along with quality installations and maintenance that are second to none.
Company History
In 1953, Dominick J. DeNapoli Sr. opened a local business in Rockaway Beach called Bel-Mar Ice and Coal. The company delivered — you guessed it — ice and coal to meet the heating and refrigeration needs of homes and businesses in the area. Back then, there was hardly such a thing as "the home comfort industry," but Dominick Sr. recognized early on the importance of keeping customers warm through cold New York nights, and remained committed to customers' comfort for his entire career. The DeNapoli commitment to customer comfort and satisfaction is alive and well today.

In fact, it's a cornerstone of our business. Today, the Bel-Mar Oil Company is run by Dominick Sr.'s wife Valencia, as well as his sons Frank and Dominick Jr. Still a family business with roots in the community, we take pride in providing the highest quality fuel delivery and home comfort services to our neighbors in Queens and Nassau County.
Local Ownership
Bel-Mar Oil is not a big corporation run by executives who work from offices miles away. Our company is owned and operated by people who live in the very same communities they serve. Conveniently located in Inwood, New York (a town along the border of Queens and Nassau County), Bel-Mar Oil serves homes, businesses and industries in — where else but — Queens and Nassau County. We take pride in serving our friends and neighbors and are committed to providing you the kind of personalized, neighborly service you just won't get from a bigger company.